Where to take your dog in Amsterdam
Amsterdam's canals gained it a place on the UNESCO World Heritage list in 2010 and gained it the nickname 'Venice of the North'. It's got an incredible amount of museums and art galleries as well as a thriving nightclub scene. Moreover, if you love cycling then Amsterdam boasts 22,000 miles of bike paths and an estimated 38% of all journeys in the city are made on two wheels.
In general, it's a pretty pet-friendly place. In 2019, 20% of households in the Netherlands owned a pet dog. Dogs are welcome on public transport and most restaurants will let your pooch join you as you dine too. In fact, there's a pretty simple signage system in place to help with this. A dog in a green circle means they are welcome but a red circle means they're not allowed.
Pets Place
With several locations throughout the city, you're never far from a Pets Place in Amsterdam. Selling everything from dog beds to food to clothes, you'll find everything you need for your dog. 
JD Williams
This stylish whisky bar offers a range of cocktails, craft beer and of course, whisky from around the world. Open Friday-Sunday, the food has an Asian vibe, featuring items like kimchi dumplings and tofu donburi. Dogs are welcome to join you and they even have a resident corgi!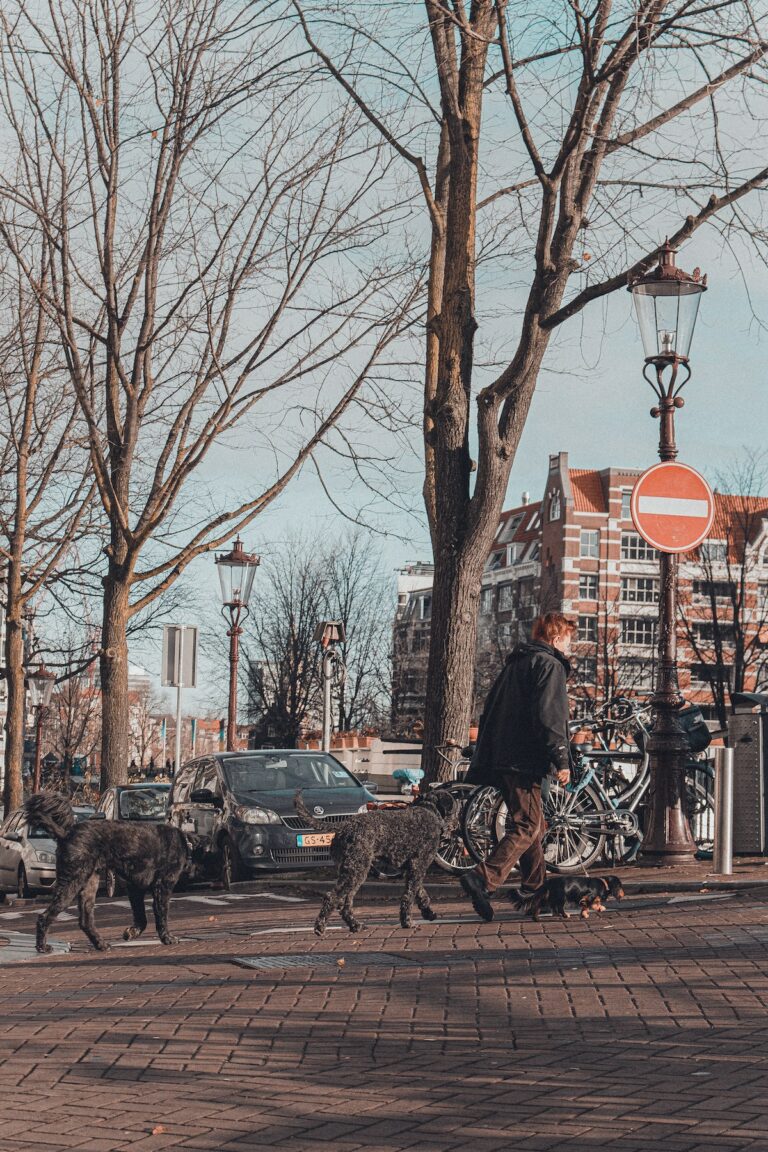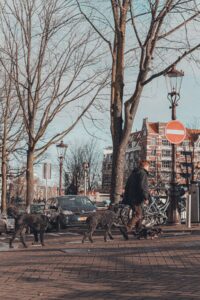 Sarphatipark
Although this park is one of the smaller green spaces to be found in Amsterdam, it's a great place to take your dog. There is a large pond in the centre of the park which separates the dog-free and dog-friendly areas. Named after the Jewish doctor and philanthropist Samuel Sarphati, the park is home to an exercise area, a playground and a butterfly garden. 
Sichuan Amsterdam
This fiery Sichuan restaurant boldly announces on their website that it doesn't tailor their food to European tastes. If hot and spicy is your thing then this is the place for you. There are four locations around the city and the menu features authentic Sichuan ingredients like duck blood, yacai and ox meat. Your dog is even allowed to join you for this one!
Sir Hummus
If hot and spicy isn't your thing then you might find Sir Hummus more to your taste. From growing up in Jerusalem, to a stall in London's Maltby Street Market, to opening in Amsterdam in 2015, Sir Hummus has come a long way. The menu treats hummus in the traditional way, by offering it in a bowl as the main dish, with hummus, pickles and salad on the side. You can add toppings like aubergine and slow-cooked beef too. Dogs are welcome inside.
Walk the canals
A trip to Amsterdam just wouldn't be complete without exploring the canals of the city. You could spend hours walking the waterways and dip in and out of the neighbourhoods as you go.
So whatever you enjoy doing, there's plenty to do with your dog in Amsterdam.
Fri Dec 10 2021