Where to take your dog in Los Angeles
When you think of Los Angeles, your mind is probably filled with images of blue skies, palm trees and glossy celebrities eating in trendy cafes and shopping in high-end boutiques. But did you know that L.A. is actually one of the most dog-friendly cities in America? Thanks to its variety of landscapes and sprawling metropolis of bars, restaurants and cafes, you'll have no trouble finding somewhere to take your dog in Los Angeles. It's worth noting that all city and county rules are against dogs on the beach. So you'll have to go a little further afield to get your feet (and paws) in the sand.
Runyon Canyon
There's a reason this is LA's most popular hiking spot! Just a short distance from Hollywood, Runyon Canyon spans 160 acres, packed with trails and breathtaking views of the city. There's also a 90-acre "off leash" dog park. There are numerous trails of varying length and elevation but these will require your dog to be on a leash. The trails have water fountains at regular intervals. They even have dog-height bowls so your pup can rehydrate in the hot California sun.
Muddy Paw Cafe
On Sunset Blvd, in the Silver Lake neighbourhood, sits Muddy Paws Cafe, a coffee shop with a conscience. For every cup of fair trade, organic coffee sold, Muddy Paws donates to a local animal charity. With a selection of delicious dog treats available and a quiet, shady outdoor space, this dog-friendly cafe is the antithesis to LA's over-priced trendy coffee shops.
Angel City Brewery
Located in an old industrial unit in the Arts District of Downtown LA, Angel City is one of Los Angeles' oldest breweries. Offering a wide selection of beers, games, rotating food trucks outside and brewery tours, Angel City has something for everyone. They are also more than dog-friendly, welcoming well-behaved, leashed dogs into their large indoor space and outdoor patio. They also have a range of dog toys for sale and hold a 'dog wash' fundraiser once a month.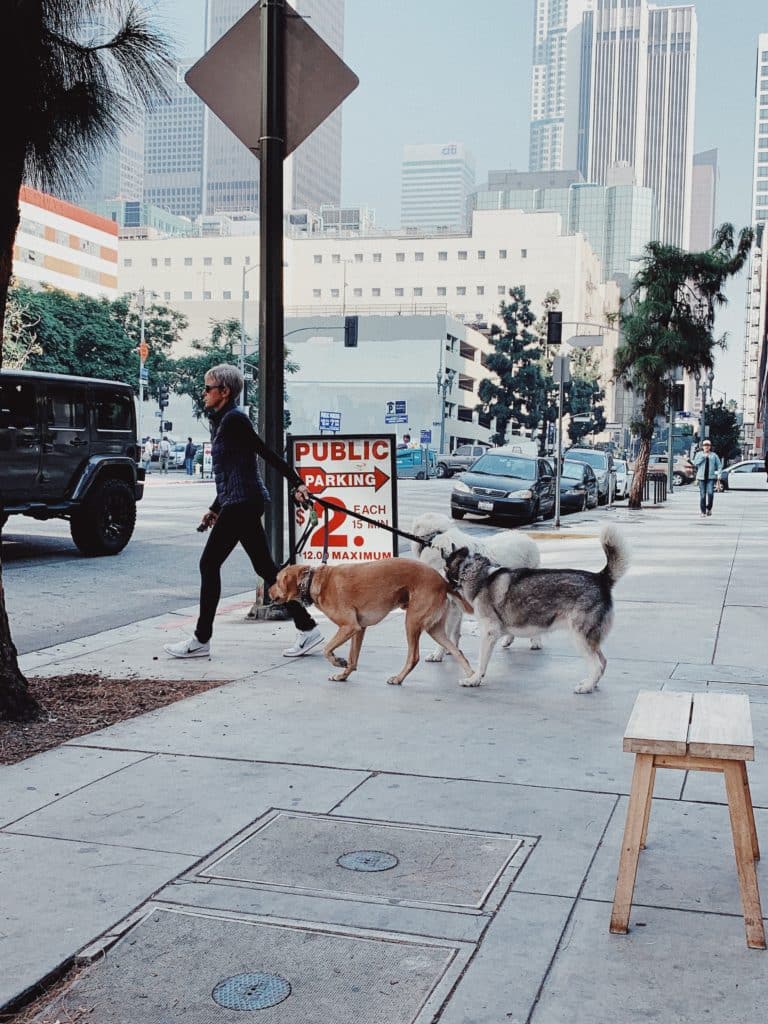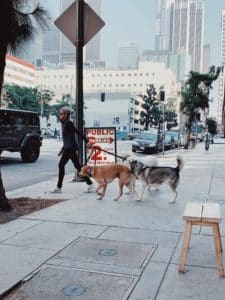 Malibu Country Mart
If you want to hit the shops, then Malibu Country Mart is a great location to take your dog in Los Angeles. Just a short distance from the world famous beaches and Pacific Coast Highway lies this unique collection of upmarket big-name boutiques and trendy indie stores. There's plenty of restaurants to keep everyone well fed and a playground for kids to burn off some energy. Malibu Country Mart is dog-friendly too with bowls of water dotted around to keep dogs well hydrated. Check out Max-Bone, the most stylish pet store you've ever visited and a hit with pet-loving celebs.
The Rose, Venice
Situated in the heart of Venice and operating since 1979, The Rose offers delicious seasonal food with a dog-friendly outdoor space. With an oyster bar, a bakery, a beer garden, a 40-foot cocktail bar and a market, there really is something for everyone at this iconic LA cafe.
So whether you're after an energetic hike with spectacular views or a relaxed browse around some of LA's trendiest boutiques, there's something for everyone in the City of Angels. Find out more about flying your pet to North America.
Fri Jul 10 2020