Where to take your dog in Switzerland
The mountainous terrain and stunning lakes make Switzerland one of the most beautiful places on the planet. With incredible hiking trails in the spring and summer and popular ski resorts in the winter, it's a wonderful destination whatever time of year you visit. If the great outdoors isn't really your thing, Switzerland has a wealth of urban cities filled with craft beers and castles. So whatever you enjoy doing, you'll find plenty to do with your dog in Switzerland.
Langenberg Wildlife Park
Located just outside Zurich, this scientifically managed zoo is the oldest wildlife park in Switzerland. You can see everything from moose to bears and bison here. Dogs can join you on your day out as long as they are leashed. There are a couple of areas that dogs are not permitted to enter so take note of these as you walk around.
Leiterhorn trail
This 4km looped trail near Wengen offers stunning views all year round. The reasonably flat trail takes you through scenic woodlands and ends with jaw-dropping views. Your dog can join you on this trail and can go off-leash in parts.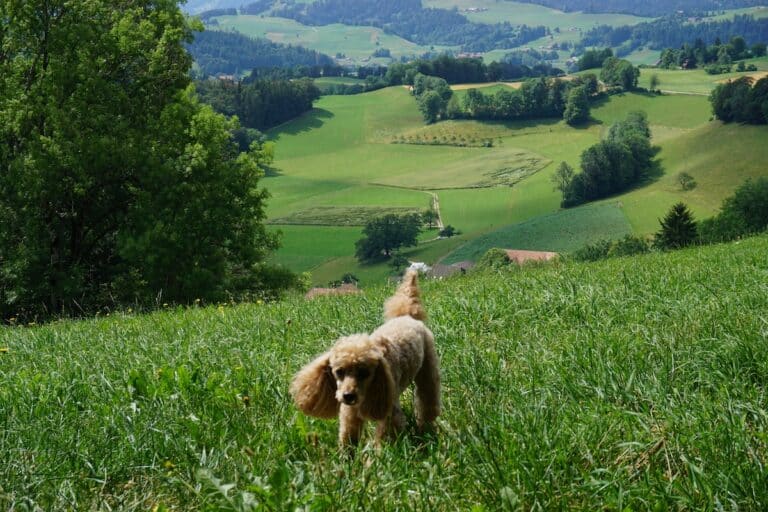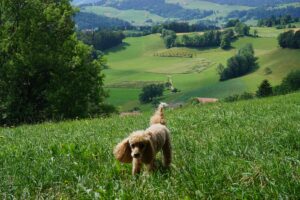 Miracle, Zurich
This restaurant in Zurich is well known for its homemade pizza and pasta dishes. They even make their ice cream onsite. Although the cuisine is Italian, the ingredients are Swiss, making the most of the fantastic local meats and cheeses on offer. It's a dog-friendly restaurant and has lovely street side seating in the summer months.
Cable car to Matterhorn Glacier
Take your dog on an exhilarating ride to Europe's highest cable car station. You'll actually need to take a couple of different cable cars to get there. Rest assured that your effort will be rewarded with breathtaking 360 degree views of the Alps. Earth Trekkers has a detailed explanation of the different routes you can take. Dogs travel for free on cable cars in Switzerland. 
Kindli, Zurich
This dog-friendly restaurant is housed in a historic salon and offers more than just a touch of elegance. With it's classy wooden furniture and white tablecloths, the service here is just as impressive as the food. The menu features timeless classics like "Zurich style" veal, sea bass fillet with lemon caper butter and rock lobster. Expect your dog to pampered here, with staff offering beds, blankets and a freshly cooked meal in a proper bowl! Bear in mind that the restaurant is not open on Sundays and Mondays.
Parc Bertrand, Geneva
Named after the photographer whose family donated the estate to the city in 1940, Parc Bertrand has two off-leash dog areas. One of the dog areas has a fence surrounding it but the other is open. During the summer months the water fountain will help to keep your pooch cool. Your dog must be on a lead when in other areas of the park.
So whatever you enjoy doing, you'll find plenty to do with your dog in Switzerland.
Find out more about taking pets to Switzerland on our dedicated page here.
Fri Apr 1 2022