Where to take your dog in Tel Aviv
Nestled on the edge of the Mediterranean, this vibrant Middle Eastern city has got something for everyone. Often making it onto the lists of most dog-friendly cities in the world, Tel Aviv has got the highest dog population per capita. With 14km of glittering golden beaches, important architectural heritage sites and incredible museums and theatres, there is something for everyone. Whatever you enjoy, you'll find plenty to do with your dog in Tel Aviv.
Hayarkon Park
This enormous park in the centre of the city is bigger than New York's Central Park, covering a whopping 375 hectares. In the south of the park is a large dog park which is fully enclosed with fences. The park offers plenty of shade and benches for owners to sit on.
Hilton Beach
There are plenty of dog-friendly beaches in Tel Aviv. Hilton dog beach is located in the north of the city. Dogs are allowed to run free here and frolic in the water. The beach also features special doggy showers so you can clean off before heading back into the city.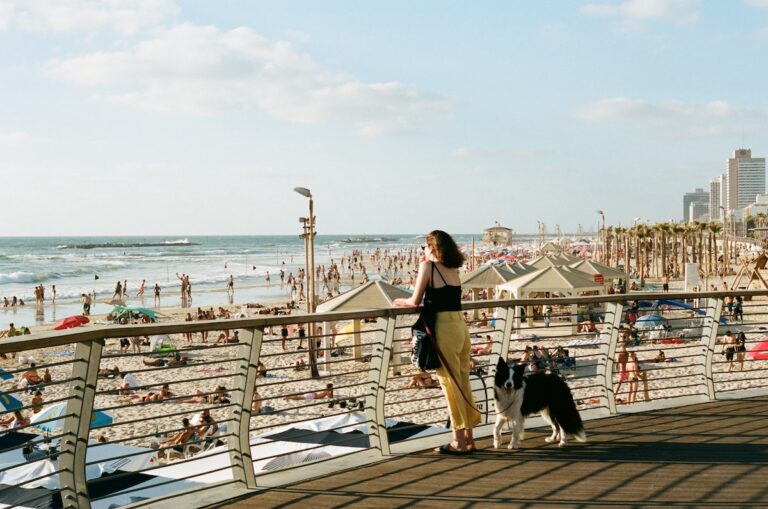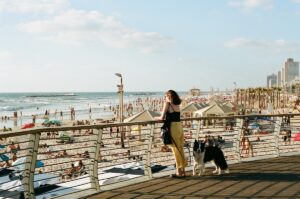 Anastasia Cafe
Open early until late, this trendy vegan cafe has a fantastic outside decking area on the pavement, which makes it perfect for people watching. Offering a menu of fresh salads, sandwiches, quiche and curry, with an extensive list of healthy shakes. It's also dog-friendly and will offer a bowl of water for your pooch.
Ein Hod Trail
If you're looking to get out into nature a bit more, this 3.5km loop trail near Jerusalem is the perfect route. Located an hour's drive from Tel Aviv, this is picturesque area is popular with hikers and campers. You'll pass the ruins of a Palestinian Arab village, Bayt 'Itab, which is thought to have been populated since biblical times. From this peak, you'll get incredible views across the Nahal Sorek valley and discover the natural spring that provided water for the village. An orchard now grows within the ruins and offers a plethora of outstanding colours and smells. 
So whatever you enjoy, you'll find plenty to do with your dog in Tel Aviv.
For more information on taking your pet to Tel Aviv, or Asia, check out our dedicated page here.
Fri Jan 6 2023