Where to take your dog in Whistler, Canada
Maybe you're thinking of taking a dog to Canada, or maybe you live near Whistler and wanted to visit with your four-legged friend. Travelling with dogs couldn't be easier in this friendly Canadian alpine village. Offering some of the best skiing and snowboarding in the world, it's easy to think that winter is the best time to visit Whistler. But the popular mountain town also offers some fantastic outdoor options in the summertime too. Think stand-up paddleboarding on crystal clear lakes and mountain hikes with views like panoramic works of art. To top it all off, Whistler is geared up for pet travelling all year round. So whatever you enjoy, you'll find plenty to do with your dog in Whistler, Canada.
Whistler Olympic Park
One of the best things about pet travel is that you get to discover new things about an area. Like, the fact that the Olympic Park at Whistler has 11 dog-friendly ski trails and 7 dog-friendly snowshoe trails that allow your pup to frolic in the snow! The Sea to Sky Corridor offers 20km of snowshoe trails – some of which are off-leash. As well as 30km of cross-country ski trails which are open to dogs. 
Hunter Gather
Open since 2017, this tap house serves freshly made, honest food. Open for breakfast, lunch and dinner, the menu features items like smoked brisket sandwich, avocado toast as well a range of locally brewed beers on tap. Enter via the patio which is surrounded by pine trees and offers ample picnic benches. Dogs are welcome here and the staff are very accommodating.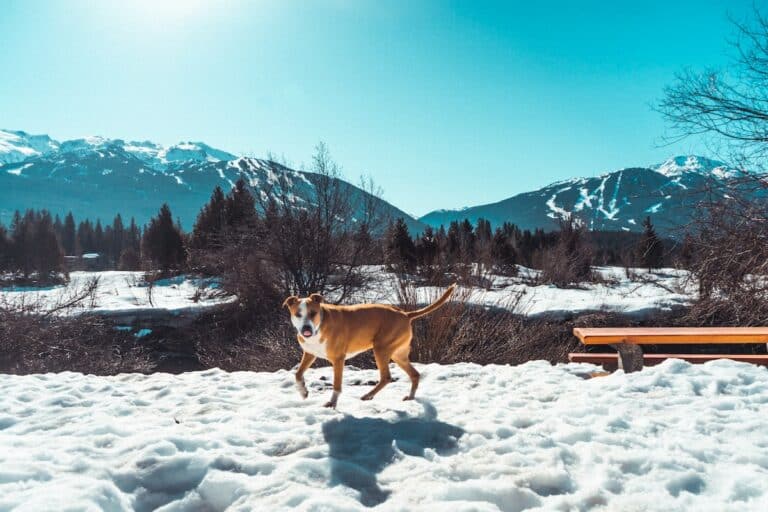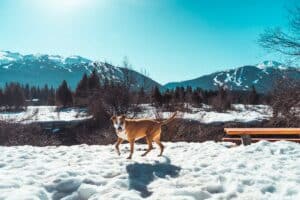 Bayly Park Dog Park
Bayly Park is a popular spot for friends and families as there are several activities to be enjoyed there. As well as two sandy volleyball courts, there is also a children's playground, tennis court, picnic benches and an off-leash dog park. The large fenced dog park offers plenty of space for your dog to run free. There is also an agility training course and doggy poo bags provided. 
Barking Bay at Rainbow Park
If you're looking for the pinnacle of Canada dog travel, you may have just found it. Barking Bay has got everything you need for you and your pup to cool off on a hot summer's day. There is a small grassy area of lawn where your dog can run off-leash. In addition to this, there is also a designated doggy dock where your four-legged friend can leap into the lake.
Whatever you enjoy when you are with your pet travelling, you'll find plenty to do with your dog in Whistler, Canada.
We have lots more useful information about taking your dog to Canada here.
Fri Feb 3 2023