Does your dog need an activity tracker?
Fitness trackers for humans are big business, but did you know you can get an activity tracker for your dog? According to a recent report, the global market for fitness trackers was worth $20.88 billion in 2017. So it seems only natural that a product that has proved so popular with humans would soon be adapted to suit our four-legged friends.
Staying active is important for your dog's overall health. Too much additional weight could cause issues like diabetes, high blood pressure and heart disease. As well as putting your dog on a diet, you can now also monitor their activity levels using a specially designed fitness tracker for dogs to make sure they are getting the exercise they need.
There are a wide range of doggy fitness trackers on the market these days and some even come with their own app to give you an easy overview of how active they've been. On one app, PitPat, you can monitor their weight, earn badges and even build up points that can be exchanged for prizes. Other apps go as far as monitoring sleep quality. These trackers are usually designed to be worn on the collar and are highly durable to withstand all the high-energy activities your dog likes to take part in.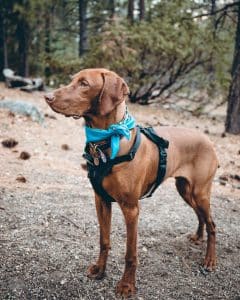 PitPat have even teamed up with MoreThan pet insurance to offer cash rewards to owners who ensure their dog stays active. Users that hit their personalised exercise goals every day for a year could receive as much as £100 reward. Director of pet claims at MoreThan and qualified vet, Andrew Moore told the Financial Times:
"Happy and healthy dogs lead longer and richer lives. The love we have for our canine friends means it can be easy to overfeed them, with our research showing 50% of dogs are overweight due to being overindulged by their owner."
As well as improving fitness levels, the GPS functions can also help you to locate your dog if they should ever go missing or get lost, with one app being able to pinpoint your dog's location even if they are 3,000 miles away.
As with any changes to your pets diet or lifestyle, you should always consult a veterinarian first. Also be aware that over-exercising your dog could be just as harmful as not doing enough exercise.
Fri Jul 19 2019