The pet accounts you need to follow on TikTok
TikTok's short-form, light-hearted videos are the perfect place for pets to step into the starlight. Pets have always been the shining stars of the internet and it's no different over on TikTok. From laughing at their hilarious antics, to sighing 'awww' at their cute personalities, pets are winning at social media in a whole new way. Here's some of the top pet accounts you need to follow on TikTok.
@tikatheiggy
Tika is an Italian Greyhound living in Montreal who has a wardrobe to rival Anna Wintour. Her most popular video is one where she showcases all the outfits she couldn't wear out last year due to the pandemic. It currenly has a whopping 42.7 million views. 
@tuckerbudzyn
Tucker is a Golden Retriever from Michigan and has 7.7 million followers on Tiktok. His adorable and hilarious antics with his owner Linda mean that his videos easily hit the 1 million mark. From performing challenges to just being his endearing fluffy self, Tucker is bound to put a smile on your face when you're scrolling.
@littlewolfiebird
Wolfie is a blue and grey parrotlet from Singapore with 1.7 million followers. Wolfie is well known for his incredibly clever tricks – particularly his skateboarding!
@whataboutbunny
Bunny is a Sheepadoodle who is able to 'talk' to her owner Alexis using a specially designed mat that features over 70 buttons and pre-programmed phrases. Scientists have been so inspired by what Bunny can do that she is now part of a research program at UC San Diego! What a clever pup!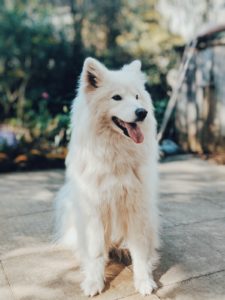 @mayapolarbear
Maya is a very cute, very fluffy Samoyed who makes the most charming videos with his owner Lingli. With 4.6 million followers on Tiktok, 2.1 million followers on Instagram and 1.84 million subscribers on YouTube, Maya is taking the internet world by storm and it's not hard to see why!  
@boscoandhisbigstick
Bosco is a dachshund with a penchant for enormous sticks. His TikTok account documents his hilarious walks around London parks. It's hard not to chuckle as you watch this tiny dog taking up the entire pathways with his giant sticks!
Fri Mar 26 2021