Where to take your dog in Prague
A historical hot spot that's packed to the rafters with art, culture and, of course, beer. Prague is on par with some of Europe's best cities when it comes to travel destinations and it's not hard to see why. With surprising sights and interesting architecture hiding down every cobbled lane, the city has lots of hidden wonders as well as the more well-known haunts. Prague often hits high in the charts of most dog-friendly cities so it's a brilliant place to explore with your pooch. Whatever you enjoy doing, you'll find something to do with your dog in Prague.
Zoo Praha
If your dog likes sniffing out other animals, they are going to love a day out at the zoo! They've got elephants, gorillas, hippos, lemurs, lions, penguins and so much more. Dogs are welcome to join you around the zoo but must be kept on a leash. The zoo provides drinking fountains, water bowls and dog poo bags. Doggy tickets cost 100 CZK and it's one dog per adult. 
Kokorinsko
If you're looking to escape the city and get a little bit of wilderness, the enchanting forests and stunning rock formations of Kokorinsko are just an hour from Prague. There are hundreds of kilometres of walking trails that wind through the trees, past crystal clear lakes and local flora and fauna. The site is also home to Kokorin Castle, whose construction started in the 14th century. Dogs are welcome inside.
Beer Story
A fantastic place to sample the best of Czech beers while sampling some traditional, local cuisine. This friendly restaurant offers dishes like goulash, pork knee and veal ribs – but also excellent burgers if you're looking for something more familiar. As well as beer, they also have a full range of drinks, from tea and coffee to wine, cocktails and soft drinks.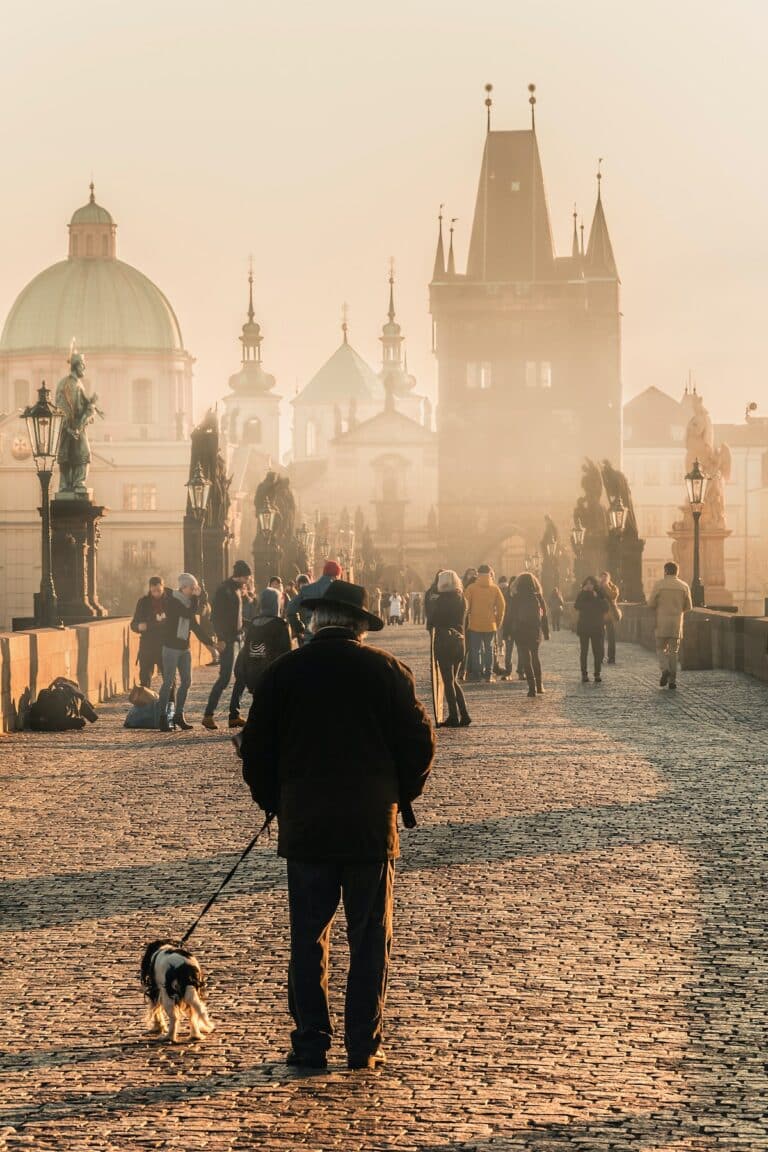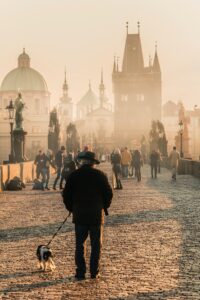 Dog Park, Prague 8, Invalidovna
This fenced-in dog park offers plenty of fun for dogs big and small. There is a large green space to allow your dog to run free. The park also has several agility obstacles including slalom poles, see saw, A frame and a bar jump. There are benches, picnic tables and even a water fountain.
Dogg
This eco-friendly dog store sells locally handmade collars and leashes as well as a wealth of other dog toys and accessories. They stock a range of 'green' dog toys and offer self-serve dry food that eliminates the need for plastic packaging.
Whatever you enjoy, you'll find plenty to do with your dog in Prague. And for more information on taking pets to  the Czech Republic, see our dedicated page here.
Fri Aug 5 2022